Description
Our ageLOC ingredients target the visible signs of skin ageing to help reveal your youthful look. All it takes is an easy-to-do, two-step process that works a little like a set of magnets. Using a negative galvanic current, your device repels the negatively charged Pre-Treat Gel into your epidermis, where it soothes and conditions the skin, binding to impurities and preparing for the positively charged Treatment Gel that follows. Using a positive charge during the Treatment step, your device draws out the negatively charged impurities targeted during the Pre-Treat step, while our ageLOC ingredients are delivered to the skin.
SAVE AT LEAST 10% when you buy the Galvanic Spa Facial Gels with ageLOC 3-box package.
Why will I love it?
47% improvement to skin ptosis after 4 weeks*

48% improvement to skin elasticity after 4 weeks*
47% firmer skin after 4 weeks*
* Results obtained from a 2020 third-party professional assessment based on a 4-week in vivo, single-blind, randomised consumer use study with 30 female subjects who used the system three times a week.
Why should I use it?
Pre-Treat Gel with ageLOC Galvanic Spa:
• Binds to impurities and clears pores.
• Marigold (Calendula officinalis flower extract) and sea kelp (Macrocystis pyrifera extract) extracts soothe and condition the skin.
• Dissolves and liquefies excess facial oils.
Treatment Gel with ageLOC Galvanic Spa:
• ageLOC ingredients target the sources of ageing to preserve the look of youth and reduce the appearance of ageing.
• Removes impurities targeted in the Pre-Treat step.
• Enhances skin hydration and leaves skin feeling incredibly soft, clean, and refreshed.
• Skin conditioning agents such as Arginine, Jasmine extract (Jasminum officinale extract), and Rosa damascena flower oil revive and invigorate tired, stressed skin.
• Green tea extract (Camellia sinensis leaf extract) helps combat the negative effects of oxidative stress caused by environmental stressors.
• Jania rubens extract, a type of algae grown through controlled environment agriculture (CEA), helps diminish the appearance of lines and wrinkles and improves skin smoothness.
Both gels together with ageLOC Galvanic Spa:
• Help to visibly reduce lines and wrinkles and reveal a firmer, more lifted, contoured, glowing appearance in just five minutes*.
• Revitalise skin's appearance with visible results that others will notice – all in just a few five-minute sessions each week*.
• Work to improve the skin's natural vibrancy by removing impurities.
• Galvanic current supports the supply of beneficial ingredients to the epidermis.
How do I use it?
Use this regimen two to three times each week for visibly revitalising and refreshing results.
Preparation: Use after a Nu Skin cleanser of your choice. Attach the ageLOC Face Conductor to your ageLOC Galvanic Spa device.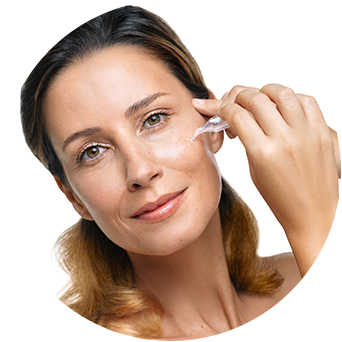 STEP ONE
Evenly apply the contents of one vial of ageLOC Pre-Treat Gel onto the entire face and neck, avoiding eyes, eyelids, and lips.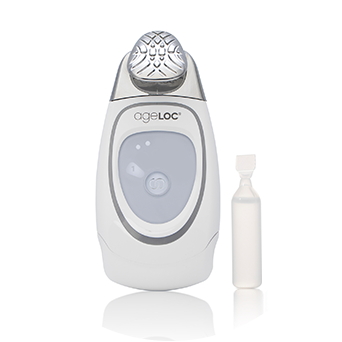 STEP TWO
Push the selection button until the number 1 (2 minutes) is lit on the display.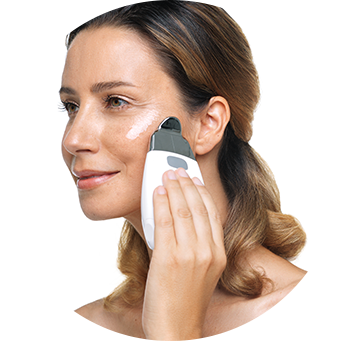 STEP THREE
Thoroughly wet hands with NaPCA Moisture Mist or water. Hold the device with a damp hand while touching the chrome plate on the back and begin to slowly glide the Conductor head over your skin. Be sure to avoid sensitive areas like your eyes, eyelids, and lips.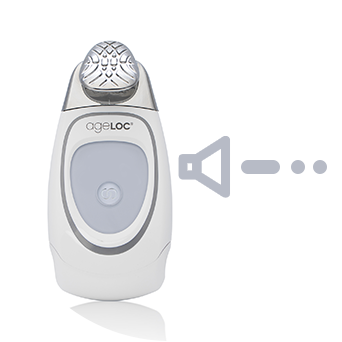 STEP FOUR
When your galvanic application is over, the device will emit a long beep followed by two short beeps and automatically turn off. Remove any remaining gel from your skin and the device with a damp towel.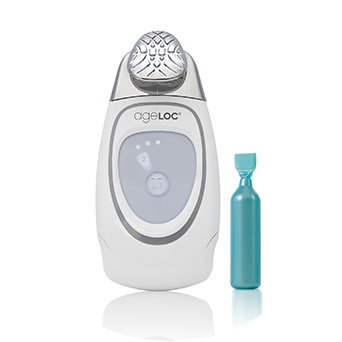 STEP FIVE
Repeat the entire process using a whole vial of ageLOC Treatment Gel and selecting application number 2 (3 minutes) on your device.
 
Ingredients
Pre-Treat Gel:
Aqua, Butylene Glycol, Glycerin, Caprylyl Glycol, Calendula Officinalis Flower Extract, Macrocystis Pyrifera Extract, Vanilla Planifolia Fruit Extract, Hydroxypropyl Methylcellulose, Potassium Cocoyl Glutamate, Polysorbate 20, Carbomer, Glyceryl Acrylate/Acrylic Acid Copolymer, Disodium EDTA, Potassium Hydroxide, Citric Acid, Chlorphenesin, Phenoxyethanol.
Treatment Gel with ageLOC:
Aqua, Butylene Glycol, Glycerin, Arginine, Adenosine, Oryza Sativa Extract, Jania Rubens Extract, Camellia Sinensis Leaf Extract, Jasminum Officinale Extract, Santalum Album Oil, Narcissus Tazetta Bulb Extract, Schisandra Chinensis Fruit Extract, Rosa Damascena Flower Oil, Tocopheryl Nicotinate, Isoceteth-20, Oleth-10, Polysorbate 20, Potassium Cocoyl Glutamate, Hydroxypropyl Methylcellulose, Xanthan Gum, Glyceryl Acrylate/Acrylic Acid Copolymer, Disodium EDTA, Citric Acid, Chlorphenesin, Sodium Benzoate, Phenoxyethanol, Potassium Sorbate, Benzoic Acid, Sorbic Acid.
Resources
Recognition